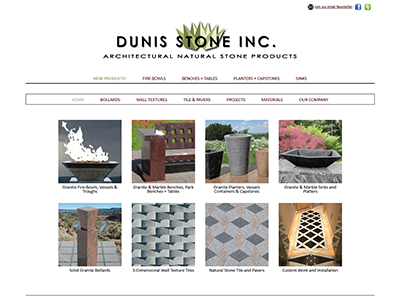 Dunis Stone Inc.
Fine art sculptor, Miles Dunis, presents his architectural natural stone designs in a set of 8 catalogs which include high quality pictures of the products he offers (Fire Bowls, Benches, Planters & Capstones, Sinks, Pavers, Bollards, Wall textures, Custom designs, and Materials).
Dunisstone.com counts with a personalized Content Manager System to easily update the catalogs.
"After talking with many website developers, I was worried about the cost, the time it would take to finish, and what many companies have; a standard monthly upkeep fee. After meeting with Luis from Advanced Microsystems I was amazed to hear the site could be up in two weeks, and that I would be able to edit text, pictures and add and delete all our company's products on my own. The cost was reasonable for the custom built products database, and the final result looked great. All my requests were taken into consideration, and the site looked better than expected. A few things needed to be changed after the site was up and running, and Luis had it solved shortly after. The site was finished in the quoted time, and Luis helped set up all our company members new email accounts in an afternoon.

We are very pleased with our site www.DunisStone.com and will use Advanced Microsystems in the future."

Miles Dunis
Dunis Stone Inc.